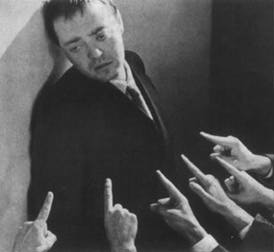 Sometimes when I'm down and upset at things in my life, when I'm not happy about certain things in my life or certain things about me, I tend to hurt those close to me.
I guess you could say that I "
let off steam
" by being mean and say things I don't mean or by being a bit too harsh or critical towards others.
I
know I don't mean it, even though others may not.
It's a defense mechanism if you will. Well.. if I ponder those words more carefully I have to admit, that isn't very accurate. More than a defense mechanism, it's a bad reaction. I guess I'm trying to find a sort of explanation, an
excuse
, as to why I can be the way I have been lately.
There's a lot of shit going on right now. Many things I'm not happy with. In all honesty... let's say there isn't much I'm really happy about lately. Which is odd considering I'm planning my wedding, I've recently started going out and trying on bridal dresses and am excited about moving to the US.
The truth is... it all seems on hold. Even though I know for sure I'm getting married, we haven't set a date yet and aren't able to until we get my VISA, which will take a while yet.
I am really unhappy about my work status, I really miss my fiance. I've been feeling very lonely lately, and I no longer see my friends as much, who are all now so busy with moving in with their significant other, busy with work or dealing with everyday life.
I know I have so much to look forward to... so many things ready and waiting to happen, but that's just it: all these things are on
hold
... a wedding,
on hold
. A new job,
on hold
. The rest of my life....
on hold
!
I'm the kind of person who wants things
now
. When there's a job to do, I get straight to it. When something needs to be done, I get cracking on it right away. I'm a planner, a thinker. I ponder every side and aspect of a situation, imagine all possible outcomes, turn things inside out in my head until I've come up with a solution. It's not good or bad... it's just the way I am. I'm so different to my fiance in regards to this. We have very different ways of thinking and approaching things. We tackle situationns in very different ways. I can't say who's wrong or right, though I believe the truth, as always, lies in the middle.
So recently, I've been taking out my pain and unhappinessss on him, on the people who surround me. I know I'm wrong, but I know that the things I get "
anal
" about are right too... I just have a wrong way of dealing with them.
So today we talked. I listened long and hard to all the things he had to say to me. And through his words, I felt my pain. I was guilty. I have wronged. I know I owe him an apology, (and I did apologise). I just wanted to reiterate my thoughts on here, more for me really. I wanted to put down in writing and admit my guilt. Only this way will his words not be for nothing. I want to acknowledge his actions and acknowledge the fact that I was wrong.
It's not the first time I've done this. Unfortunately it's easy, somehow, to be mean and hurt the people we love the most. He knows how much I love him and he knows how unhappy I've been lately. We both know that things will pass as soon as we're together again, but for now I just have to clench my teeth and bare the pain.
It's not easy for me to admit my wrong doings... but nevertheless I have.
I just hope I have the strength to change and face life with a smile. Patience is a virtue... I seek to find it!
Meantime, I'm so lucky to have beside me a man who is so mature and never afraid to share his thoughts with me. He quietly holds his thoughts until it's the right time to speak. We've had a bad week or two... we managed to argue over the stupidest things. We were both unhappy inside and it would show when we spoke to one another.
Yet he found the words to talk to me and lay it out. He knows I hate it when people "
sugar coat stuff
", as I always say to him. I want it straight. And so he dealt me the blow... he layed the cards on the table. It hurt. No one wants to hear how they have wronged, yet he did it because he loves me, as I have done many times in the past when there were things he needed to change about himself, to improve his life and to better himself.
We look out for one another. He loves me enough to know that though he hurt me a bit, it's the bigger picture that clounts.
Together we're going to make it!